Federal Jobs Program Moves To End Subminimum Wage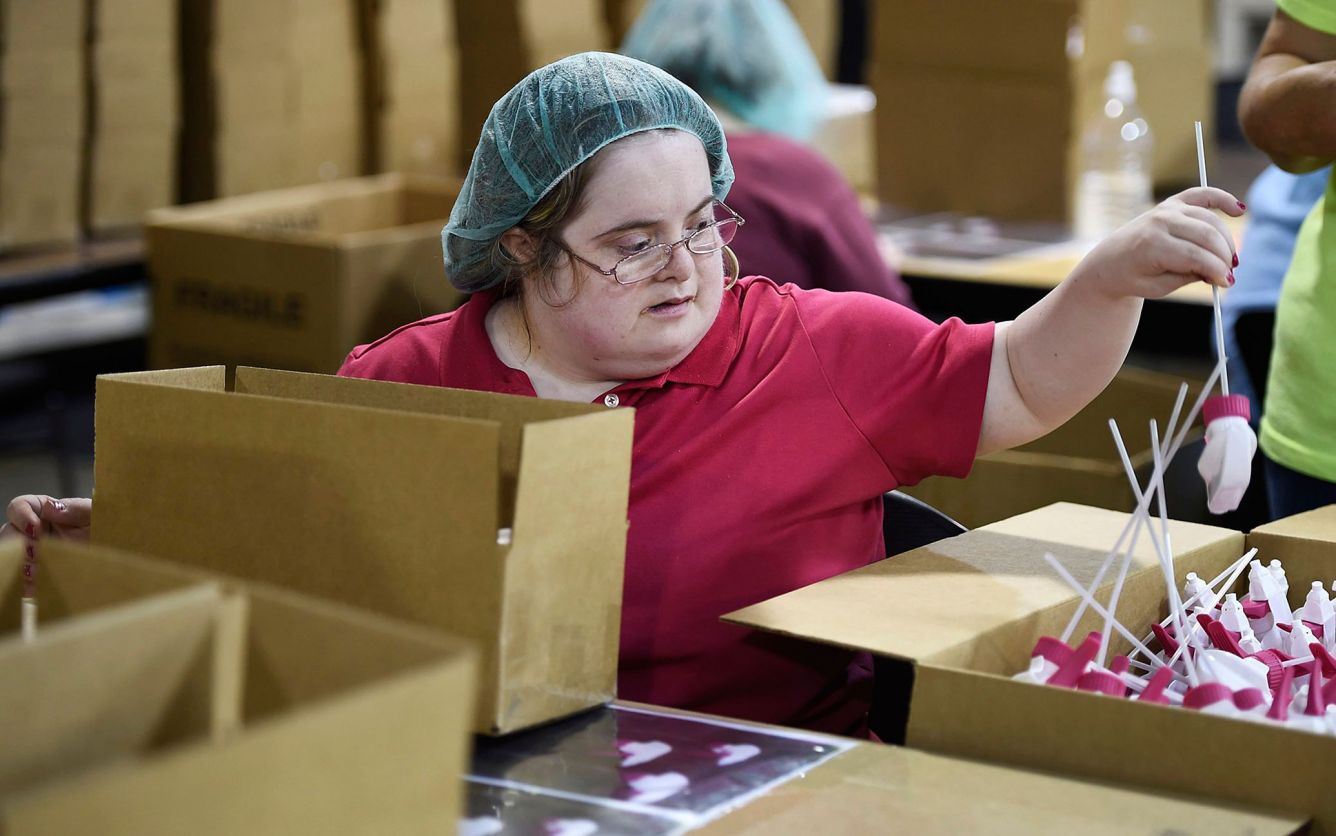 A massive program that puts people with disabilities to work through federal government contracts across the country plans to no longer allow workers to be paid less than minimum wage.
The U.S. AbilityOne Commission issued a proposed rule this month barring any new contracts under the AbilityOne Program that pay people with disabilities what's known as subminimum wage.
The program, which dates back 83 years, directs federal contracts to a network of nearly 500 nonprofits that provide products and services for the government. Over 42,000 people who are blind or have significant disabilities are employed through AbilityOne at over 1,000 locations nationwide including dozens of government agencies and military facilities. In fiscal year 2020 alone, AbilityOne provided nearly $4 billion in goods and services to the government.
Advertisement - Continue Reading Below
Under the proposal, people employed through AbilityOne contracts would have to be paid at least the federal minimum wage of $7.25 per hour. However, many jobs would actually pay more due to higher local minimum wages or federal pay requirements for certain types of jobs, according to officials with the AbilityOne Commission, an independent federal agency that administers the program.
The rule would apply to new contracts as well as those that are extended or renewed.
The move to end subminimum wage within the AbilityOne program is years in the making. In 2016, the AbilityOne Commission issued a declaration calling for all participating nonprofits to commit to paying at least minimum wage. At the time, the commission indicated that 90% of those employed through the program were already earning at least that much.
In 2019, the commission took another step by asking SourceAmerica — one of two central nonprofits that facilitate the relationship between participating nonprofits and the government — to remove payment of subminimum wage from all AbilityOne contracts within three years.
The AbilityOne Commission says that all of the nonprofits working with its other central nonprofit, National Industries for the Blind, already pay at least the prevailing minimum wage on AbilityOne contracts.
"Moving from a voluntary process of ending payment of subminimum wage to a mandatory requirement is a significant step," said Chai Feldblum, vice chairperson of the AbilityOne Commission. "Wages paid for work send a message of how that work is valued and the work performed by people with disabilities should be valued equally with others. At the same time, we are committed to addressing all issues that may arise as a result of this requirement and we therefore look forward to receiving public comments as part of the rulemaking process."
The proposal comes as the AbilityOne Program has faced criticism for being outdated. A 2020 report from the National Council on Disability, an independent federal agency, called for the program to end, arguing that it promotes segregation and is not increasing employment opportunities for people with disabilities.
Meanwhile, California and Delaware are among the latest states to join a growing list in phasing out subminimum wage and President Joe Biden has thrown his support behind ending the practice. An executive order Biden signed earlier this year, which will apply to many AbilityOne contracts, requires federal contractors to pay at least $15 per hour to those employed through new contracts starting next year.
The proposed rule from AbilityOne is up for public comment through Nov. 12.
Read more stories like this one. Sign up for Disability Scoop's free email newsletter to get the latest developmental disability news sent straight to your inbox.