FDA Approved Eye-Tracking Device May Speed Autism Diagnosis, Studies Suggest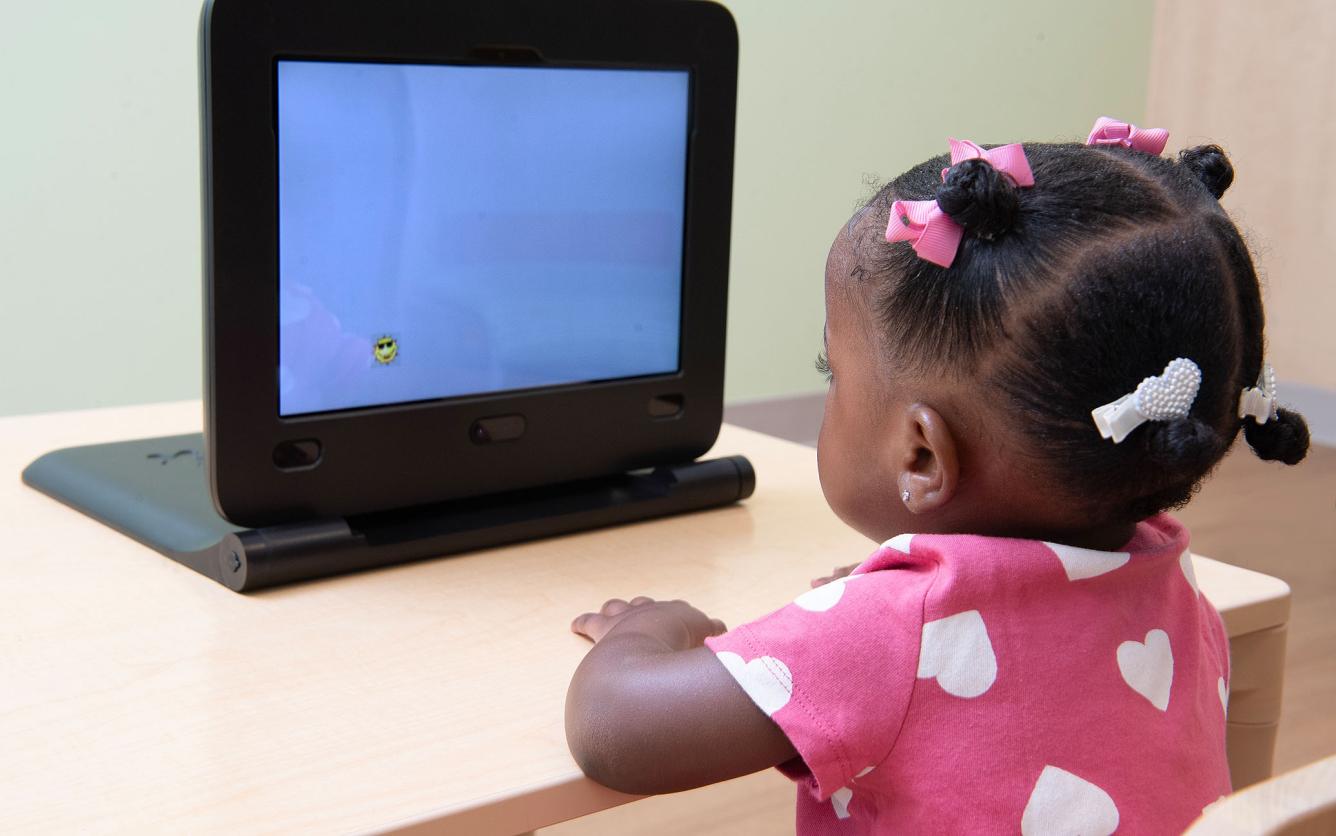 A newly available device could help doctors determine within minutes whether or not children as young as 16 months have autism with a high degree of accuracy, researchers say.
Two studies published this week examining the EarliPoint Evaluation are offering evidence that the tool, which received Food and Drug Administration clearance last year, could greatly speed autism diagnosis.
The device collects data at a rate of 120 times per second on where children look as they watch various video scenes of social interactions on a tablet. It then compares a child's looking behavior to that of other children their age.
Advertisement - Continue Reading Below
The tool was approved by the FDA in June 2022 to "aid in the diagnosis of autism spectrum disorder" for children ages 16 to 30 months.
Now, studies published in the Journal of the American Medical Association and JAMA Network Open are bolstering the tool's potential.
"This technology is a first-of-its-kind, biomarker-based tool developed and clinically validated to aid in the diagnosis of autism," said Ami Klin, director of the Marcus Autism Center at Children's Healthcare of Atlanta, who worked on the new research. "The published studies show that objective, performance-based biomarkers of children's looking behavior can help clinicians by reducing the time required for accurate autism diagnosis from multiple hours of clinician assessment to as little as 12 minutes of objective measurements."
Klin added that the testing results were "highly consistent with expert clinical diagnoses."
The study published in JAMA Network Open evaluated more than 1,000 children with an average age of 22 months using the eye-tracking device. Meanwhile, the research published in JAMA involved 475 children ages 16 to 30 months who were assessed for autism at six specialty clinics across the nation with the device and by a specialist.
Currently, autism is diagnosed using clinical observation and children suspected of having the developmental disorder often face lengthy waits to see specialists for an evaluation. Researchers have long sought ways to more quickly and efficiently diagnose autism so that children can access intervention earlier when it is most effective.
"The far-reaching implications of these results may mean that children who currently have limited access to expert care, and face two or more years of waiting and referrals before finally being diagnosed at age 4 or 5, may now be eligible for diagnosis between the ages of 16 and 30 months," Klin said.
Beyond diagnosing autism, Klin indicated that the research also found that the eye-tracking device can measure a child's social disability, verbal ability and nonverbal learning ability, information that can help guide treatment plans.
Klin and fellow study author Warren Jones as well as Children's Healthcare of Atlanta, which the Marcus Autism Center is part of, all have financial interests in the EarliPoint device and the company marketing it.
Even with the promising results, Geraldine Dawson of the Duke Center for Autism and Brain Development noted in an editorial published alongside the studies that more research is needed before the eye-tracking device should be used in clinical practice.
"Demonstrating that an eye-tracking test improves diagnostic certainty would require following children whose diagnosis was uncertain longitudinally to determine whether the test improves prediction of a later definitive autism diagnosis," she wrote. "Future studies will need to assess how feasible, acceptable, reliable, and efficient the eye-tracking test is when used by clinicians as an aid in autism diagnosis in practice."
Read more stories like this one. Sign up for Disability Scoop's free email newsletter to get the latest developmental disability news sent straight to your inbox.