Trump Education Nominee Confirmed In Spite Of IDEA Concerns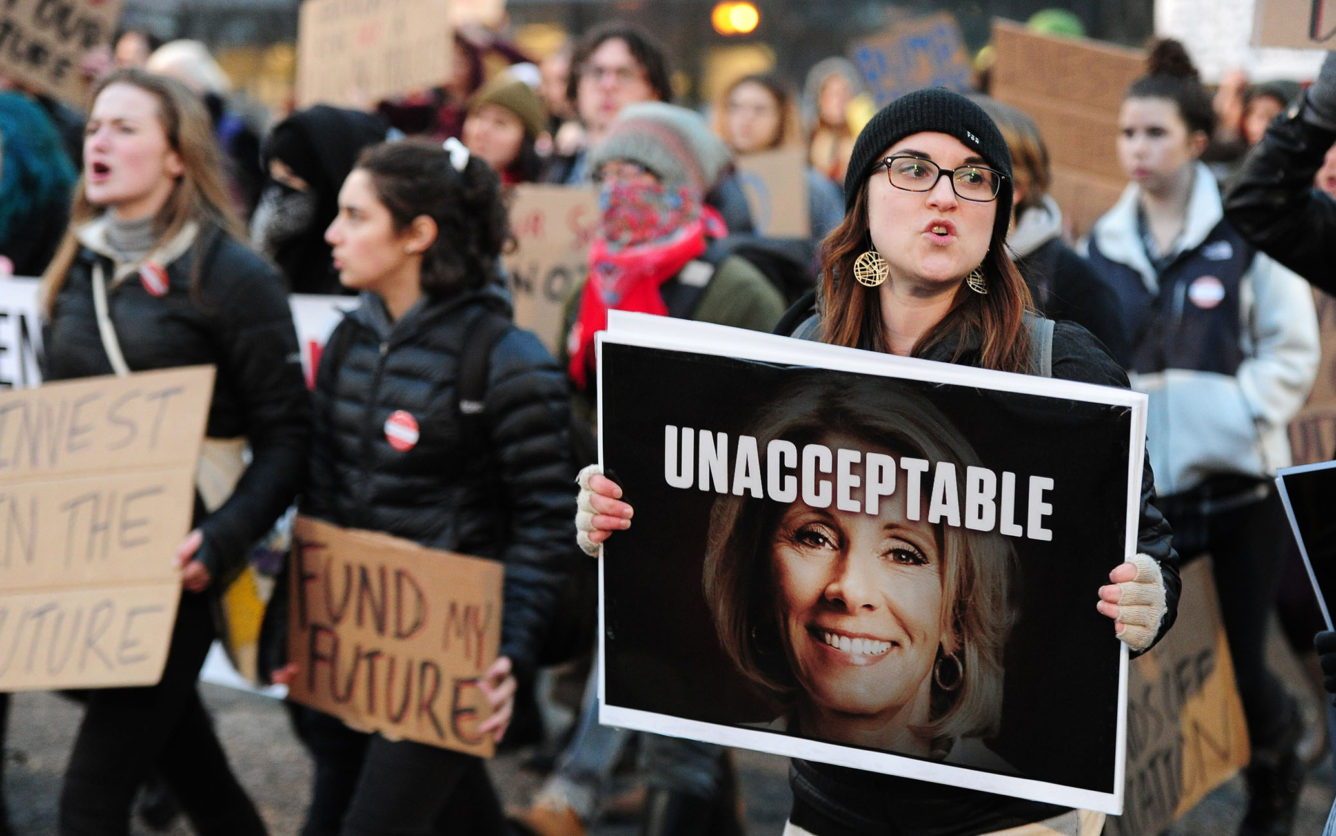 In an unprecedented vote, the U.S. Senate confirmed Betsy DeVos to be secretary of education despite widespread concerns about her comments on special education.
With the Senate split 50-50, Vice President Mike Pence cast the tie-breaking vote Tuesday in favor of DeVos, clearing the way for her to take the helm of the Department of Education.
Pence's involvement marks the first time in history that a vice president has decided the fate of a cabinet nominee, according to the Senate Historical Office.
Advertisement - Continue Reading Below
The vote came after a 24-hour debate in the Senate during which Democrats repeatedly pounded DeVos for her failure to know basics about special education.
At her confirmation hearing before the Senate education committee in January, DeVos did not appear to know that the Individuals with Disabilities Education Act is a federal law. When asked if all schools receiving tax dollars should be subject to the act's mandates, she indicated that it is a "matter that's best left to the states."
DeVos later acknowledged "I may have confused it" and she subsequently sent a letter to Sen. Johnny Isakson, R-Georgia, saying "I am committed to enforcing all federal laws and protecting the hard won rights of students with disabilities."
Nonetheless, concerns remained.
"Unfortunately, Mrs. DeVos has demonstrated a lack of understanding of the challenges facing students with disabilities," Sen. Maggie Hassan, D-N.H., said on the Senate floor Monday. "While I am pleased that Mrs. DeVos later clarified that she is no longer confused about whether IDEA is a federal law, she has done nothing to reassure me that she would enforce it or that she understands how fragile the gains that we have made under IDEA are."
Several disability advocacy groups — including the Council of Parent Attorneys and Advocates, the Council of Administrators of Special Education and the American Association of People with Disabilities — urged senators to oppose DeVos and more than three dozen other groups insisted that any vote should be delayed until she offered more specifics regarding her views on educating students with disabilities.
Senators were inundated with hundreds of thousands of calls and protests to DeVos' nomination sprang up across the country. The education nominee was even skewered on "Saturday Night Live."
A Michigan billionaire who has championed charter schools and vouchers, DeVos has never worked in public education.
Senate Democrats were joined by the body's two Independents in uniting against DeVos. Two Republicans — Susan Collins of Maine and Lisa Murkowski of Alaska — also voted against the nomination.
"Today is a troubling day for our country and our children," said Denise Marshall, executive director of the Council of Parent Attorneys and Advocates. "The vote to confirm Mrs. DeVos as secretary of education leaves us deeply concerned about the future of our nation's children with disabilities."
Read more stories like this one. Sign up for Disability Scoop's free email newsletter to get the latest developmental disability news sent straight to your inbox.