DeVos Finds 'No Reason' To Waive Key Provisions Of IDEA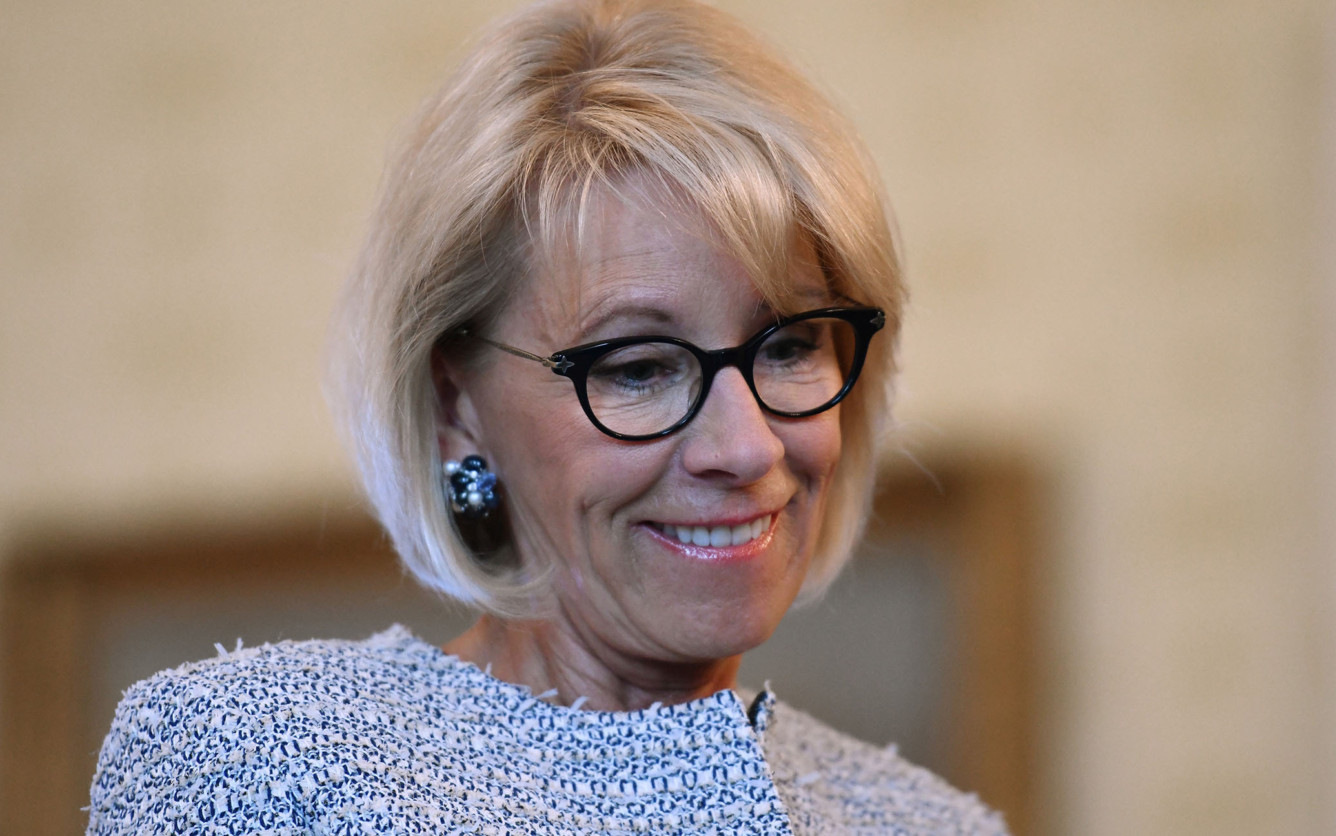 U.S. Secretary of Education Betsy DeVos will not seek changes to the central tenets of the Individuals with Disabilities Education Act in response to the coronavirus pandemic.
In a report to Congress released late Monday, DeVos recommended that lawmakers consider what the Department of Education called "additional flexibilities on administrative requirements."
But, DeVos said in the 18-page document that her agency "is not requesting waiver authority for any of the core tenets of the IDEA or Section 504 of the Rehabilitation Act of 1973, most notably a free appropriate public education (FAPE) in the least restrictive environment (LRE)."
Advertisement - Continue Reading Below
The report came at the request of Congress, which as part of a federal stimulus law approved in late March, gave DeVos 30 days to provide recommendations for any waivers she thought necessary under IDEA to "provide limited flexibility" to states and school districts during the emergency.
Disability advocates were unequivocal that they thought no waivers were needed even as most of the nation's schools remained shuttered. But, groups representing school administrators had reasoned that given the extraordinary circumstances, temporary modifications were justified.
"We undertook this task acknowledging the reality that most students and teachers are at home today; yet, America's teachers want to keep teaching and students need to keep learning," DeVos said in a statement. "While the department has provided extensive flexibility to help schools transition, there is no reason for Congress to waive any provision designed to keep students learning. With ingenuity, innovation and grit, I know this nation's educators and schools can continue to faithfully educate every one of its students."
The Education Department said that the recommendations were rooted in several key principles including that learning must continue for all students, decision-making should be based on what's best for students, parents must be informed of how waivers would impact their kids and services that have traditionally been provided in-person will have to be done differently.
"The secretary determined there is no reason that a student's access to FAPE cannot continue online, through distance education or other alternative strategies," the agency said in an announcement about the report.
DeVos is recommending that Congress allow her agency waiver authority to ensure that children with disabilities can continue receiving services after they turn 3 if the pandemic delays an evaluation that's supposed to happen at that juncture. The secretary is also seeking changes to requirements of IDEA personnel development scholarships and more flexibility in funding for vocational rehabilitation.
"I am pleasantly surprised that it appears that the secretary did not succumb to pressure and chose the high road to leave the important provisions of both (IDEA and the Rehabilitation Act) untouched," said Denise Stile Marshall, CEO of the Council of Parent Attorneys and Advocates, or COPAA, a nonprofit that represents special education attorneys.
Officials with AASA, The School Superintendents Association, as well as the National Association of State Directors of Special Education and the Council of Administrators of Special Education — which had all pushed for temporary IDEA flexibilities — did not immediately offer comment on the report.
Read more stories like this one. Sign up for Disability Scoop's free email newsletter to get the latest developmental disability news sent straight to your inbox.